Existing Home EnerGuide Home Evaluations
Existing Home EnerGuide Home Evaluations
Due to the fact that the Canada Greener Homes portal for energy advisors and service organizations is not functioning we are temporarily putting a pause on scheduling EnerGuide home evaluations. To participate in the program, register on the Homeowner Portal of the Canada Greener Homes Program and select a Service Organization.  You can find an energy advisor providing service in your area by visiting the CleanBC Energy Advisor Search Tool and select 'renovating a Home' and identify where your home is located
If you are unable to find an available energy advisor, please email and inform Natural Resources Canada nrcan.canadagreenerhomesgrant-subventionmaisonsvertes.rncan@canada.ca
An EnerGuide home evaluation with our energy advisors provides you with expert advice and a customized retrofit plan so that you can save money on your energy bills, improve your home's health and comfort, and reduce your home's environmental impact. EnerGuide home evaluations follow a standardized process developed by Natural Resources Canada to provide homeowners with comprehensive and unbiased recommendations for their home.
Recommendations from our energy advisors can save you hours of planning time and thousands of dollars by assisting you to make energy upgrade decisions that are right for your home and budget. By completing an EnerGuide home evaluation, you can access the Canada Greener Homes Grant. You can also become eligible for the Home Energy Improvement Bonus for completing three or more energy efficiency upgrades, offered by the CleanBC Better Homes and Home Renovation Rebate Program.
Contact us for obtaining an accurate quote or booking a pre- and post- retrofit evaluation. Your local government may provide discounted evaluations. Check out the featured incentives page for rebates available for your energy efficiency upgrades. Read more about EnerGuide home evaluations in our FAQs below.
We are currently not scheduling EnerGuide home evaluations until further notice. Thank you for your patience.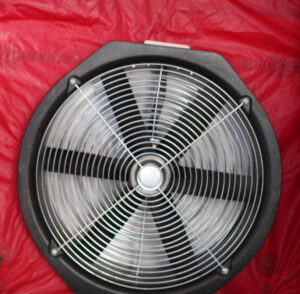 Why Have an EnerGuide Home Evaluation?
Discover Energy Solutions for Your Whole Home
Your home works as a system. All elements of your home - insulation, mechanical systems, building envelope etc. - affect each other. Have an energy evaluation done based on a

whole-home approach

to find the best energy efficiency solution for the whole home.
Improve indoor air quality and comfort.
Lower your energy consumption and energy bills by installing high-efficiency products in your home.
Lower the greenhouse gas emissions of your home and your environmental footprint and help achieving our climate targets.
Explore solutions for energy efficiency issues such as drafts, molds, stuffiness, outside noise etc.
Prioritized & Unbiased Upgrade Recommendations 
Our energy advisors are licensed with Natural Resources Canada and provide comprehensive and impartial service.
Speak with our energy advisors about the best options for your house to meet your specific goals for your home.
Talk to our advisors about your priorities and let them identify upgrade options for accessing rebates, reducing energy bills, improving home comfort, reducing your carbon footprint, improving your home's resale value, insulating your home from outside noise, or addressing other home issues related to energy efficiency.
Receive Money for Your Upgrades 
Understand the rebate program criteria and options.
Become eligible for financing like low-interest loans and reduced mortgage premiums.
Get connected to other grants and incentive programs.
Access the Home Energy Improvement Bonus through the CleanBC Better Homes and Home Renovation Rebate Program.
What Happens During an Evaluation?
At Your Pre-Retrofit EnerGuide Home Evaluation:
Your energy advisor will take measurements and assess the efficiency of your home's windows, doors, space and hot water heating systems, ventilation, and insulation.

Using the Blower Door depressurization test, your advisor will measure the air exchange in your home to find out whether your home is too leaky or under-ventilated. While the fan is running, you can walk through the home with your energy advisor to find all the air leakage spots. You'd be surprised at all the hidden leaks!

Your advisor will perform a safety check called an Exhaust Depressurization Test to see whether conditions exist that could cause your home's exhaust systems to pull dangerous combustion gases, including carbon monoxide, into the home. Your advisor will let you know if you are at risk and provide guidance on who you can contact to fix it.
After your advisor has completed the assessment and all tests, they will talk to you about concerns, issues, or renovation plans you may have for your home. You can discuss reasons for renovation plans, your budget, and other priorities. You will talk about financial incentives you could receive for certain upgrades and take your concerns into consideration when they model your home with a software.

After the evaluation, the advisor will create an energy model based on the site visit. You will receive the Renovation Upgrade Report and a Homeowner Information Sheet. The Renovation Upgrade Report provides customized, unbiased and prioritized upgrade recommendations for your home. It also informs you about your current and potential EnerGuide Rating.
At Your Post-Retrofit EnerGuide Home Evaluation 
You may choose to complete a post-retrofit evaluation to learn how your home's energy efficiency has improved since you finishing renovations. Completing a post-retrofit evaluation after completing renovations is also the gateway to accessing some of the energy efficiency rebates available.
Your energy advisor will return to your home and check your home's energy performance after completing upgrades and renovations.
The advisor will document the changes in your home since your pre-retrofit evaluation and create an updated energy model of your home. The data will be used to generate an updated EnerGuide Rating, EnerGuide Label, and Homeowner Information Sheet.
If you are planning to access rebates, ensure that you have all of the necessary documentation for your application at this stage. If you are selling your home, consider including your EnerGuide rating in the listing for your home to show a third-party verified confirmation of your home's efficiency.
What Are Your Fees?
The final cost of EnerGuide home evaluation depends on the location, size, and layout of your home. In order to obtain an accurate quote, please contact us by phone.
Base Fees
Pre-retrofit EnerGuide home evaluation: $515 + GST
Post-retrofit EnerGuide home evaluation: $245 + GST
Pre-Retrofit Additional Fees:
Multiple Blower Door Tests 
This fee is charged if your home has two or more heated areas that do not share airflow through a shared door or entryway (as occurs with secondary suites, for example) as an additional depressurization test will be required.
One extra blower door test - $50
Two extra blower door tests - $125
Contact us for pricing if the home has 4 or more depressurization zones
Extra Square Footage
Size of Home (sq ft)
Extra Square Footage Fee
Post-Retrofit Additional Fees
Multiple Blower Door Test 
This fee is charged if your home has two or more heated areas that do not share airflow through a shared door or entryway (as occurs with secondary suites, for example) as an additional depressurization test will be required.
One extra blower door test - $50
Two extra blower door tests - $125
Contact us for pricing if the home has 4 or more depressurization zones
Change in Geometry
This fee is charged if you have changed the geometry of your home, which includes but is not limited to an increase or decrease to the interior volume and/or area (square footage), raising or lowering ceilings, finishing an attic to create living space, between your pre- and post-retrofit evaluation.
Size of Geometry Change (sq ft)
Fee
Other Fees
Mileage
Mileage fees may apply depending on your location in relation to our service areas. Contact us for details.
Cancellation Fee
If you cancel or request to reschedule an evaluation providing less than one full business day of notice before the evaluation, a $50 cancellation fee will be charged. The cancellation fee is also charged if the advisor arrives on site and the home is not in a condition to conduct an energy evaluation or if safety hazards prevent the completion of the evaluation.
Label Reprinting Fee
If you require re-issuing of a physical copy of your EnerGuide label, a $30 reprinting fee will be charged.
What is the EnerGuide Rating and Label?
EnerGuide is the official mark of the Government of Canada for its energy performance rating and labeling program for houses, light-duty vehicles, and certain energy-using products. EnerGuide Ratings are available for new home construction and for existing homes.
The EnerGuide rating is the modeled energy consumption of a home, measured in gigajoules per year. The lower the rating, the less energy a home consumes. The EnerGuide Rating is displayed on the EnerGuide Label, which provides summarized information from the energy evaluation. It includes:
EnerGuide Rating
A typical new house reference: the EnerGuide Rating the home would have if it had been built to current building code.
Breakdown of the rated annual energy consumption
Greenhouse gas emissions: the estimated GHGs emitted annually as a result of using energy in the home.
For more information on the EnerGuide Label, check the Guide to the EnerGuide Label.
What is a Blower Door Test?
A blower door test is used to measure the air tightness of your home. One blower door test takes about 30 minutes to complete.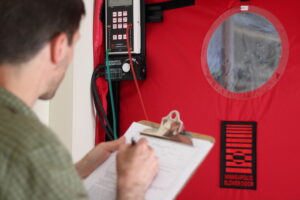 Your energy advisor will set up a blower door fan in an exterior door that depressurizes the home by sucking air out. To equalize the pressure difference between inside and outside, outdoor air will flow into the home through all cracks, holes and gaps in your building envelope. While the blower door fan is running the energy advisor will walk through the home to take notes of all leaky areas that you should focus on when draftproofing. Feel free to join your advisor. You may be surprised by all leaks in your house!
The data from the blower door test is used for the energy model. Your home will receive an air leakage score in Air Changes per hour at a 50 Pascal pressure difference - that means the amounts of time the whole home air volume is replaced per hour when the home is depressurized. The Equivalent Air Leakage Area that you can find on the Homeowner Information Sheet shows the size of a hole that is equivalent to the accumulated size of all cracks and gaps in your home in square cm and square inches.
Is the Blower Door Test Dangerous for Me or My Pets?
You can safely remain in your home during a blower door test. The fan does create some noise that may scare some pets. Also, if you have vermiculite in your home, we may not complete the blower door test. Read below for more information.
How Should I Prepare For The Evaluation?
At time of booking, we will ask you questions to determine whether your home is in a state to have an EnerGuide Home Evaluation. However, it is your responsibility to properly prepare for the site visit:
Do NOT start any renovations or demolition work before your evaluation (e.g. removing drywall, windows, siding, cabinets, bathtubs, HVAC systems, etc.).
Please ensure your home is in a habitable condition as defined by Natural Resources Canada, including:

Space and water heating systems must be on site at the time of the evaluation. The heating system has to be (or have been in the case of a broken system) capable of heating the home to 21°C.
The building envelope must be in a suitable condition for a blower door test. Ceilings, exterior walls, foundation walls, exposed floors, interior finish (e.g. drywall), windows, doors, and skylights must be intact/in place.

Close all exterior openings (e.g. windows and doors, fireplace dampers, crawlspace and attic hatches, etc.) to prepare for the depressurization test.
Excessively leaky heritage homes, log homes without chinking, or older homes over 4000 sq. ft. may fail the depressurization test. Contact us for details.
Sweep your fireplace hearth, close dampers, remove any valuables around your fireplace and do not have a fire within 24 hours of the evaluation. Having a fire within 24 hours of the evaluation is a safety hazard to the advisor and anyone in the residence.
If you are concerned that soot might be drawn into your home, please consider having your chimney swept before your evaluation, and/or covering rugs and removing valuables from around your fireplace.
Pilot lights of an oil or gas furnace may be extinguished during the depressurization test. It is your responsibility to arrange the relighting.
Photographs of items like mechanical systems, insulation levels, windows, and the exterior of the home will be taken to meet Natural Resources Canada quality assurance requirements.
Have your property tax bill and roll number (or folio number) available for your energy advisor. This number is required to verify the legal homeowner of the property.
During the evaluation we collect your personal information and will request your consent to share the information with Natural Resources Canada and program partners through the Evaluation Authorization Form.
Ensure your energy advisor has access to all areas and mechanical systems in the home, including suites, the attic and the basement or crawlspace, furnaces, hot water heaters, windows, and doors.
Clear away belongings blocking access to all above areas and make room for a ladder below the attic hatch if required.
For your post-retrofit evaluation, ensure all your renovations are completed and that you have photocopies of required documentation for the rebates.
When Will I Receive My Reports?
You should receive your Renovation Upgrade Report within two weeks from the initial evaluation date. If you have not received your report within this time, please first check your junk/spam e-mail folders and then contact City Green at 1.866.381.9995 or savings@citygreen.ca should you require further assistance.
What Is Vermiculite and What Should I Do If It's Found in My Home?
Vermiculite is a type of insulation that may contain asbestos fibres and is commonly found in older homes with insulation installed prior to 1990. If you suspect that there is vermiculite in your home, it is highly recommended that you take precautionary measures due to serious potential health risks. If exposed, asbestos fibres can become airborne in the home's interior and cause serious harm if inhaled. For more information about the risks associated with asbestos exposure, please visit Health Canada.
If you discover vermiculite in your home, do not disturb it. Contact a certified asbestos removal specialist that will follow BC hazardous waste regulations for options in relation to your renovations. For information about asbestos testing and having it removed professionally, please visit Work Safe BC.
If you have vermiculite in your home that may be (or become) exposed to the interior, the blower door test will not be performed, and instead you will be requested to sign the Blower Door Test Waiver. By signing this waiver you acknowledge that your EnerGuide rating will likely not be as accurate as it would have been had a blower door test been performed.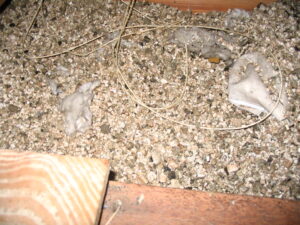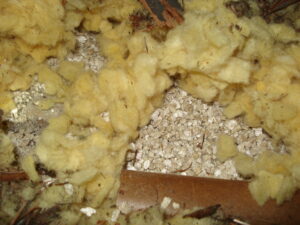 Vermiculite insulation in attic
What is a Service Organization?
A Service Organization is an independent organization licensed by Natural Resources Canada to deliver federal housing programs, such as the EnerGuide Rating System. City Green Solutions is a licensed Service Organization in BC.
City Green works with energy advisors throughout British Columbia to conduct EnerGuide Home Evaluations. City Green performs Service Organization duties for all energy advisors working with us, including on-going training, quality assurance, technical support, and maintaining the integrity of the EnerGuide Rating System.
Do I Contact City Green or the Energy Advisor Directly to Schedule an Evaluation?
Most energy advisors working with City Green Solutions prefer to  schedule their own evaluations and set their own rates. However, some energy advisors use City Green's in-house scheduling services. To determine whether to contact your advisor or City Green for scheduling your evaluation, consult the Program-Qualified Energy Advisor list, and use the contact information displayed for the advisors(s) in your region.