CleanBC Better Homes & Better Buildings Program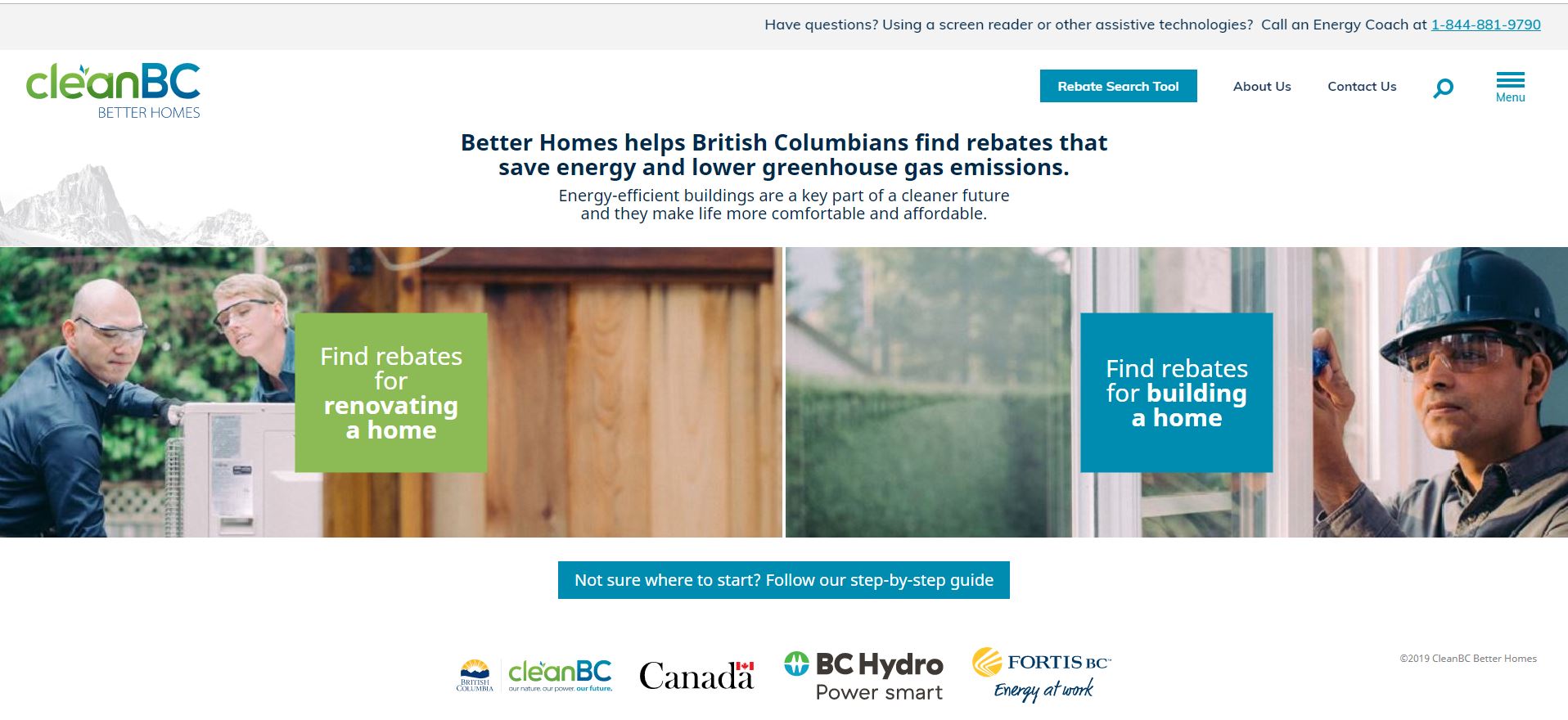 CleanBC Better Homes and Buildings is BC's official online hub for homeowners and businesses to access information, rebates and support to reduce energy use and greenhouse gas emissions in new and existing homes and buildings. CleanBC Better Homes is funded by the Province of British Columbia and the Government of Canada under the Low Carbon Economy Leadership Fund. CleanBC Better Homes rebates are administered by BC Hydro, FortisBC and BC Housing.
The program started out in fall 2017 as the BC Home Energy Coach, transitioned to the Efficiency BC Program in October of 2018, and received its final re-branding to the CleanBC Better Homes and Better Buildings Program in March 2019 in alignment with British Columbia's CleanBC climate strategy. The CleanBC Better Homes and Better Buildings Program provides British Columbians with a central, reliable, and unbiased online and phone resource for energy efficiency topics in the building sector.
CleanBC Better Homes and Better Buildings resources include:
Easy to use rebate and incentive search tool
Single application for CleanBC, BC Hydro, FortisBC and local government rebates and incenitves
Unbiased information and answers to frequently asked questions on energy efficiency upgrades, accessing rebates and incentives, energy evaluations, hiring contractors, etc.
Free energy coaching services for homeowners and businesses undertaking renovations, including a phone and email hotline staffed by our energy coaching specialists
Search tool to find registered EnerGuide Rating System energy advisors for residential renovations and new home construction
Contractor directories to find local registered contractors
Energy Coach Service 
The Energy Coach is a free coaching service for homeowners and commercial building owners and managers in B.C. Energy Coaches are trained energy efficiency specialists who provide building-science based information about the options and opportunities to improve the energy efficiency of your home or building. They are available to answer your questions at all stages of your energy improvement project. Energy Coach services are available for homeowners and selected coaching support is available for commercial building owners or managers.
Visit betterhomesbc.ca or betterbuildingsbc.ca for more information.